Grand Champion
Windemere's Different Shade of White

SILVER STREAK has been retired from the ring and is enjoying life in a companion home. He has the honor of being the only white peingese to finish his show career in the top ten pekingese in the nation, acheiving the #7 spot, piloted by Ruth West. We are extremely proud of him!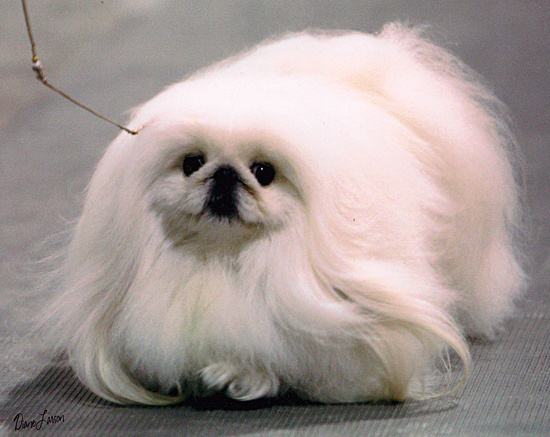 Silver Streak has been a wonderful show dog for us and I got the pleasure of finishing his championship, putting the first Specialty Best In Show on him and his first Group placement.
Judge: Sandra Goose Allen
Judge: William Holbrook
Judge: Carol Noe
He was then sent to Ruth West in Missouri for his 2011 show career and the following pictures atest to his winning ways. Ruth is more than a handler, she is a great friend also--both to me and whatever dogs I send to her. Silver Streak is the winningest white pekingese in the history of our breed, finishing the year as the #5 pekingese. He excels in type, pigment, soundness, personality and coat and is now at home to romance the girls.
Judge: Sandra Goose Allen
Judge: Daryl L. Vice
Judge: Terri Lyddon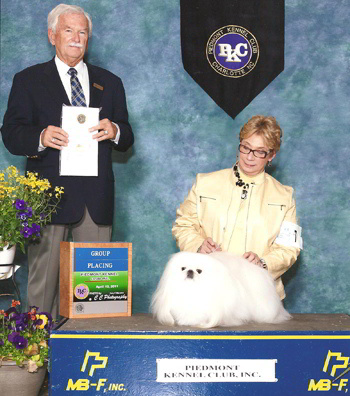 Judge: Norman Patton
Judge: Robert Sturm
Judge: Gloria Geringer
Judge: Malcom Moore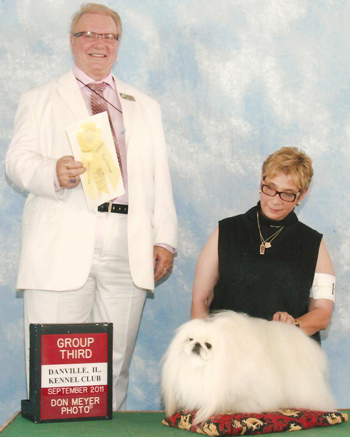 Judge: William Usherwood
Judge: Susan St. John Brown