News & Updates

Ch. Windermere's What Dreams Are Maid Of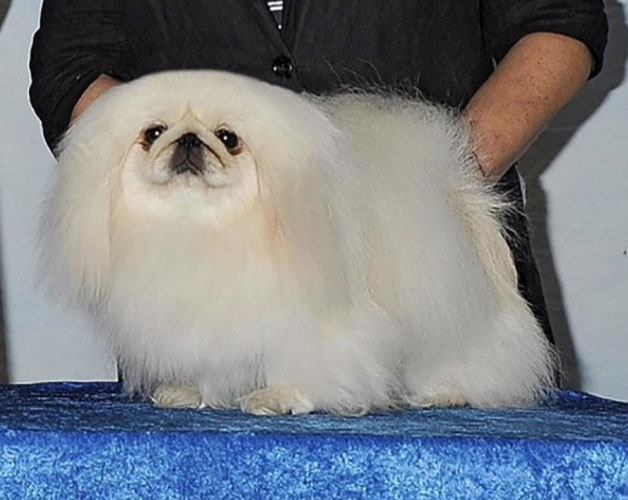 Dream has produced her last littter for us and is ready to go to a forever home. Her date of birth is 6-11-2018 so she just turned 5. The picture on the left shows her when she was being shown to her championship, the one on the right was taken today. This is a very loving girl, loves to sit on your lab, gets along with other dogs and children. We would prefer her going to an one dog family, but can talk about that. She needs to be spayed asap as she has already gone through pyometra. She lives with Andrea, so contact her if you are interested.


We Are Offering For Sale a CHAMPION WHITE MALE
To a FOREVER HOME!
AM. CH. WINDEMERE'S LIVING THE DREAM AT RAINTREE
We are offering "Rockstar" for sale simply because we have more males than we can use. Space is always at a premium when you are breeding. Rockstar was a very easy Champion, owner/handled by Andrea.
Terms will be considered with anyone who is seriously interested in owning this beautiful creamy white pekingese and are willing to give him a forever home. He has a wonderful temperament, is basically house trained and is good with both adults and children.
Rockstar is residing with Andrea in North Carolina and for more information check the Contact Page on the website and reach out to either Joy or Andrea for pedigree, more pictures, etc.
Most of you know by now that I have quit breeding, but I shall explain: As luck would have it, I had sold several white show Pekingese to Andrea Johnson in North Carolina. We continued to correspond and became good friends. Long story, short, we have entered into a partnership and are continuing to breed pekes, especially white ones, under the Windemere prefix. The Pekingese are with Andrea and we have produced the following litters. Check the Contact Page if you wish to contact either of us.

Sire: Am., Can., Dan Ch SINGLEWELL TONICS
Dam: Am Ch. Windemere's Hope Diamond

In order to produce this litter, we used frozen semen that I have had stored for 22 years . Tonic was imported from England by me when he was 6 months old. Andrea, along with a Reproduction specialist, handled the breeding, helped whelp Hope, and raised the litter.

The litter was 2 boys and we kept the smaller one and named him Windemere's Tonic 2.0. (2 boys, no girls). The other one went to Pam Vanderpool in Tucson, Az.,and is waiting to enter the show ring. Tonic has both his majors and has been waiting for a bit more maturity before going back in the ring. Yes, he is ice white.

It looks like all 3 of these puppies are spoken for, if anything changes, I will let you know.